Interview with Kakaionstha Deer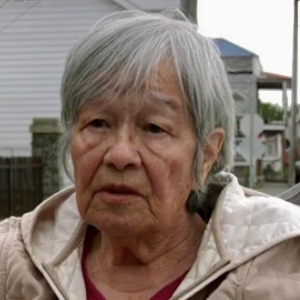 Kakaionstha Betty Deer lives in Kahnawake, Quebec. She is the former principal of the Katerie School, located on the South Shore First Nations reserve, as well as an actress, appearing in the acclaimed TV show "Mohawk Girls". She was only six years old when she was sent to a residential school in Spanish, Ontario, where she spent three years. There, she went through physical and sexual abuse, and it is only when she was in her 50s that she began dealing with her trauma. 
REACTION TO KAMLOOPS RESIDENTIAL SCHOOLS MASS GRAVE DISCOVERY
It made me cry after hearing about the mass grave containing the remains of 215 children on the grounds of a former residential school in Kamloops, B.C. It reminded me of when I was 6 years old and was sent to the residential boarding school called St. Josephs in the town of Spanish in Ontario.
An old nun would take my 6 year old group to the graveyard up the hill from the school to pray for the girls that had died. One of the rows of graves contained the graves of 7 girls who had frozen to death trying to get home for Christmas and were found dead by the railroad tracks. I wonder if their parents ever found out what happened to their children because whatever happened at the residential schools was kept secret. We would hear stories of children who died, such as a girl who ran away because of the terrible conditions at the school. A priest disguised himself so he didn't seem like a priest, with a nun hiding in the back seat, drove in search of the girl, found her, and offered her a ride. The girl got into the car and the nun grabbed her. They brought her back to the residential school, where they shaved her head, took away her shoes and locked her up in a room with little to eat as punishment for trying to escape and as a warning to the other girls.
I was sexually abused by a nun as a young child at the Residential school. I disassociated these terrible memories but still carried something inside me all those years. Finally I decided in my 50's that I wanted peace and joy in my life, and went on a healing journey whereupon I was able to remember what actually happened to me.
The lawyers for The Truth and Reconciliation Commission of Canada won a court case, whereupon the Government of Canada was supposed to reveal the location of all the Residential school gravesites, but I believe this never happened.